YLE News: Undocumented workers exploited
A report by Yle's investigative journalism unit MOT has revealed how undocumented workers, that is those living and working in Finland without a residence permit, are being exploited by employers in a number of different industries.

The latest area to come under scrutiny are hairdressing salons, where police suspect immigrant workers and asylum seekers are being exploited in order to keep prices low.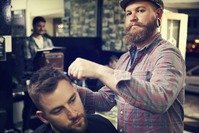 The problem is not confined to just the hairdressing industry, but is part of a wider phenomenon in which asylum seekers and other foreign workers work long hours for low pay in the Finnish labour market, with evidence of exploitative practice occurring on construction sites, in restaurants and in the forestry industry.
Examples of the complaints made by the workers include receiving paltry pay packets, despite working hours that stretch from morning to night.
Read the full story: MOT: Police investigate the long days and low pay of undocumented hairdressers